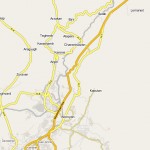 Last Friday we took the road to Tsakhkadzor. The weather was good all along, and there were certain things to discuss, so we thought – why the hell not do this in a changed environment and some fresh air?
The planned trip was overall a little longer than 150km, thus also being a nice starting ride to see how my bike feels 'out in the close wild'. I was eager to take a ride to Geghard first, however Tsakhkadzor seemed to make more sense on that particular day.
We took the standard 'Sevan highway' to Hrazdan upon departing Yerevan and since the official run-in period was passed, I have done some minor 'performance tests'. The results were encouraging — about 160km/h stable with revs and space still  left for some extra speed. But speed was not really what I was interested in.
In Tsakhkadzor we visited Kecharis and went to eat some Ishkhan (the trout did not have that magical melting taste my mom objectively delivers). The weather was fantastic; while there were some 'I'll rain if I want to' clouds up above it was actually pretty warm and no rain ever came down.
Most of the fun came on the way back, as Anna suggested we take an alternate route through Bjni. This was a worse road with gravel, dirt and mud instead of tarmac and huge potholes on certain sections. Hett is always happy to drive his Pajero through this kind of terrain and I was more than excited to try my bike out, especially since I've heard a lot of criticism lately about the 'offroad capabilities' of my new motorcycle. And guess what!
I have not once had a problem with the bike's ground clearance. Not once.
It was agile enough at slow speeds to handle through every single stone.
I did not ever lack rapid acceleration to maintain speed through the gravel or dirt.
And everyone who doubts my bike's suitability for the wonderful Armenian terrain conditions can, well, suck it.
After this we arrived to Abovyan where I saw an absolutely genius invention of the local municipality — 'laying policemen' (speed bumps) in front of every single pedestrian crossing in the town. Cars never yield to the pedestrians in Armenia, so this was a bullet-proof way to make them do that, unless they wanted to damage the cars. The pedestrians in Abovyan were crossing the street like in Europe, and I thought it was absolutely necessary to build the same speed bumps in Yerevan as well.
Then there was Yerevan as it always is at the end of the trips and I was very happy to have the motorcycle that I had.